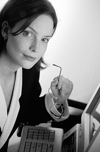 GOTAPP© sells TAPP© transactional Internet Servers licenses.

GOTAPP© revenue stream principle can be presented in a simple formula :
each final user anywhere in the world, benefiting from any nature of service based on TAPP© should reward GOTAPP© by US$ 1 per year.

With this in mind, we shall target 5 million users by end 2005 – 200 million users by end 2006 – and believe it is reasonable to evaluate the number of users in 2007 at more than 600 millions world-wide.